CoalPro III™ for Measuring Vitrinite Reflectance - CRAIC Technologies
CoalPro III™
The CoalPro III™ Optical Petrography System from CRAIC Technologies is a microphotometer designed for the organic petrographic analysis using Standard Test Methodologies ISO 7404-5 and ASTM D2798. This microphotometer is configured to measure the reflectance from coals, kerogens and petroleum source rock. However, it also has a very flexible design. The CoalPro III™ was developed anticipating the next generation of test protocols as well as for fluorescence and micro-imaging.
Incorporating a new optical detector and CRAIC CoalPro™ software, the CoalPro III™ system grades the energy content of coals, kerogens and petroleum source rock using the ISO 7404 and ASTM D2798 standard test methods. It also gives you the ability to collect full color images of each measurement location in addition to full automation if desired.
However, the CoalPro III™ can also be upgraded to a full 308 Coal™ microscope spectrophotometer to measure the full reflectance spectrum and the spectral fluorescence from coal, kerogen, petroleum source rock and other petrochemicals.
With no moving parts, the CoalPro III™ is durable and user friendly. Designed with flexibility and speed in mind, the CoalPro III™ system rapidly measures vitrinite reflectivity and also has the ability to do other types of spectroscopic and petrographic analysis and imaging. With this flexibility of design, it will easily comply with future changes in coal testing methods and your own experiments.
Key Features
High sensitivity detector with low noise and long term stability
CRAIC CoalPro™ software to calculate reflectance per ISO 7404 and ASTM D2798 standard test methods.
CRAIC Vitrinite Reference Materials available
Precision 546 nm reflectance measurements
Can be upgraded to full range microspectroscopy
Can be upgraded to fluorescence microspectroscopy
The only coal reflectance system that also incorporates color digital imaging.
Upgrade your old coal reflectance system with supported technology
Manual or fully automated operation
Precision temperature control of samples
Specialized software including statistical analysis, spectral databasing, image analysis and more
Easy to use and maintain
From the experts in microspectroscopy
Vitrinite Reflectance
ISO 7404 and ASTM D2798
The CoalPro III™ is designed to measure the reflectance of vitrinite macerals per ISO 7404 and ASTM D2798 standard methods. Offered both in manual and automated mode, the system produces industry standard reports when used with CRAIC Vitrinite Reflectance Standards. Test reports can also be customized to your particular requirements.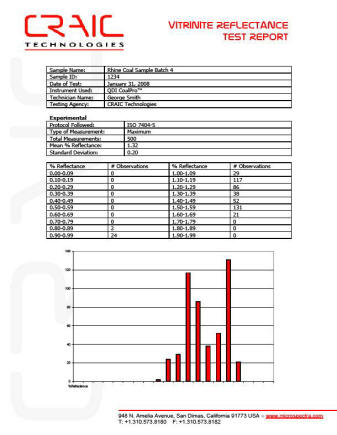 Fluorescence
Cutting edge microfluorometry
The CoalPro III™ can also measure the fluorescence intensity of coals, kerogens and petroleum source rock easily and quickly. With the ability to image and measure the emission intensity, the CoalPro III™ is a powerful tool for spectral analysis of geological samples…including fluid inclusions.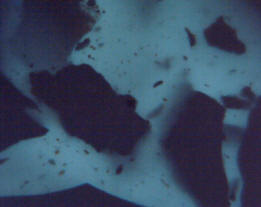 Microimaging
High resolution color digital imaging
The CoalPro III™ offers high resolution, color digital imaging with sophisticated software. It allows you to simultaneously see both the spectrophotometer entrance aperture and the coal sample. This makes it very easy to align the sample for measurements and to capture full color images under any measurement conditions.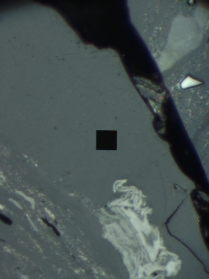 Applications
Vitrinite Coal Reflectometry
Organic Petrography
Kerogen Analysis
Petroleum Source Rock Analysis
Petrochemistry
Reflectance microspectroscopy
Transmission microspectroscopy
Fluorescence microspectroscopy
Color imaging
Mineralogy analysis
Gemology
Partenaire
CRAIC Technologies
Produits dans la même catégorie
---
---
---